News - Jan 11 2016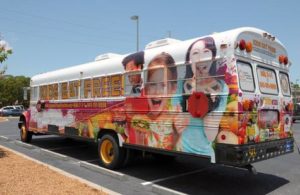 Hungry children stuck at home without transportation will have food come to them this summer as the Manatee County school food service programs rolls out a new program.
Summer food service officials will launch a mobile feeding unit this summer, which will stop at three different locations during lunchtime to feed all youngsters under the age of 18.
The mobile feeding unit is an addition to existing summer lunch programs. A dozen different schools run lunch programs each year, which are open to children whether they attend the school or not. The district also works with the county on different summer meals programs.
Even with school sites running summer programs, some students slip through the cracks, said Skye Grundy and Steve VanSprundel, specialists with the Manatee County School District food nutrition program.
"We're missing this huge chunk of kids in the summer," Grundy said. "We decided to bring the food to them," VanSprundel added. The mobile feeding unit is a former school bus retired from the Manatee County school fleet and retrofitted to hold food and coolers, wrapped with an eye-catching sign on the front and an awning so children can sit outside in the shade and eat.
Grundy and VanSprundel, who are coordinating the summer bus program, visited surrounding counties with similar programs last year, including Hillsborough County, and spent the better part of this school year figuring out the logistics of the program.
The bus will run from June 11 through Aug. 8 and will stay at each location for approximately 30 minutes. After looking at a number of sites, officials decided on 993 26th St. E., Bradenton Village and Lincoln Park. The bus will arrive at the 26th Street location at noon, Bradenton Village at 1 p.m. and Lincoln Park by 2 p.m. Times are approximate and may change once the program starts.
Summer food programs are a separate fund from the school food program during the year. Summer food is funded by the U.S. Department of Agriculture and the program receives reimbursements for served meals. The summer program is a self-sustaining fund officials used to retrofit the bus and pay other associated costs, including gas, bus drivers and other workers. "This bus program won't cost the district anything," VanSprundel said.
Grundy and VanSprundel are cautiously optimistic about the success of the bus. For the first week, officials will stock an additional van in case the bus is more popular than expected. If the bus isn't feeding a lot of students, officials may change bus locations. "The first couple days, it'll be who really knows?" Grundy said. But the officials are hopeful. "Hopefully, next year we'll have to find another bus," VanSprundel said.
SignZoo is a national leading manufacturer of fleet graphics. Follow us on Twitterand Facebook for updates, news, and industry trends.