News - Sep 20 2013
Bradenton Youth Team SignZoo wins first place in the Junior Division, and outscored the first place team in the adult inshore division by 7 points at the 11th Annual De Soto Fishing Tournament.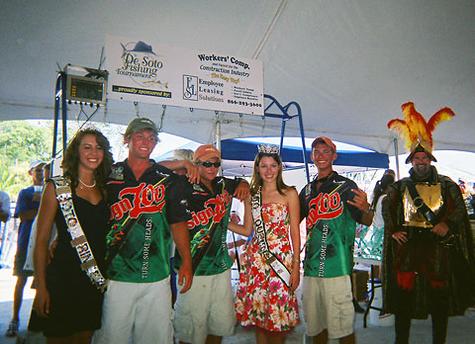 In addition, the remarkable young men took both Big Fish prizes at $250 each with a 42″ Snook and a 33″ Redfish. They scored a total 273 points. It was the first time in the history of the tournament that a junior team beat all adult inshore anglers. They also weighed in a 40″ Snook, a 32″ Redfish, a 19″ Trout, and a 2 lb. Flounder. They were awarded 3 checks totaling $800, a trophy and fishing tackle. From left to right are the De Soto Princess, team mates Nick Ross and Bill Alstrom, the De Soto Queen, Team SignZoo Captain Ryan Shannon and Hernando De Soto.
Sponsor a "Youth" fishing team today!
In addition to sponsoring adult fishing teams around the country…. SignZoo is proud to sponsor "Youth" fishing teams in several local inshore fishing tournaments throughout the year. We would like to challenge other business & professions to join in and sponsor "Youth" fishing teams to help promote the business community's committment to kids. It provides a safe sporting event for talented young people who find fishing is a great way to avoid recreational drugs, peer pressure and street gangs.
In addition, the recognition the youth teams receive for competing in and winning these tournaments, provides them with self esteam, a sense of accomplishment, pride and commeradery with other youth and adult anglers. The accomplishments of these remarkable youth anglers may also help to set the standards for other kids to follow when it comes to finding safe, fun and productive forms of recreation.
Contact SignZoo at 1(800)239-3815 today to find out how easy it is to become a "Youth" fishing team sponsor. "Youth" team sponsors will receive special consideration/pricing on Team Boat Wraps for Juniors.