News - May 17 2013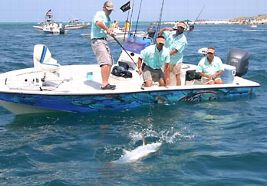 BOCA GRANDE, Fla. — Twenty five tarpon teams were greeted by stiff easterly winds Sunday morning, conditions much different from Saturday's final qualifier.
Theoretically, it was just as different strategywise, with teams able to bring in two fish and the combined weight determining who moves on to Monday's top five finale of the Jim Beam PTTS Tarpon Cup.
Only a few teams were pressed with making tough decisions as to which fish to bring to the scales as only seven teams brought in two fish. Team Sign Zoo leads the proceedings with 275 pounds, but there are four teams within 24 pounds: Fast Lane (271), Famous Craft (265), T.A. Mahoney (253), and Reel Adventures (251).
Robert McCue of Team Sign Zoo guides in Boca Grande Pass, so he knows what size to expect on a given day. The preponderance of small- to medium-sized fish of late told him to take the first two fish to the scales, but he said he couldn't bring himself to execute the plan early on.
"We got one pretty early, but it was only about 80 pounds or so. I just didn't think that with four hours to go that would hold up, even if we got a big second fish," McCue said. "We caught the 133 a little later, took it to the scale and then I rode over the Lighthouse Hole on the way back to the pack to the west. I marked a pod of fish and we dropped down and within a minute we had our bigger fish on."
Team Famous Craft's Robert Jacobsen said his team was "on fire" throughout the day, landing seven tarpon out of nine hookups. The problem was the size: most of the fish were between 85 and 110 pounds.
"When we got that one that was a little bigger, I made a decision. We were going to go to a spot that historically holds bigger fish," Jacobsen said. "I saw that the tide was really starting to rip and I knew that the bite would get slow and that fish we were on were going to be smaller and really full of energy. We just needed to get away from those fish."
The risky move paid off in spades after about 45 minutes and Jacobson was "starting to get a little antsy," when 150-plus pound fish took the jig and took them for a weaving ride through the Sunday tournament and recreational boat crowd.
"That was the longest time we went all morning without a strike. I just had a feeling — and the rest of the guys agreed — that we needed to stick there," Jacobsen said.
Jacobsen also said that one of his lost fish did the team a favor by freeing itself of the hook. The estimated 125-130 pound fish would have presented a difficult decision whether to bring it in, a decision that would have cost the team a spot in the top five. Team Florida Fishing Weekly was just eight pounds behind the fifth and final position.
Tomorrow's action begins at 7 a.m. ET and concludes at 10 a.m.    – John McQueen – ESPN