News - Apr 18 2013
BOCA GRANDE, Fla. — Replete with their signature Greek fishing hats and bo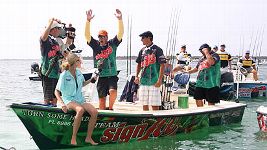 wties, Captain Robert McCue and his crew of Gianttarpon.com took the big prize in the Jim Beam Tarpon Cup Championship on Monday morning.
Overcoming the absence of their traditional PTTS championship bagpipes player, the crew, also known as Team Sign Zoo, weighed a 131-pound fish just an hour and 10 minutes into the fishing to lay claim to the title, a Century bay boat package valued at more than $50,000.
"We saw a lot of small fish in the pass before we started fishing, so I had a feeling (with the small field) and the limited time that if we got a decent one we were coming in," said McCue, whose team was also the first to complete their fishing in Sunday's round of 25. "We saw a lot of sharks out there as well, so we took a chance with this one and it paid off."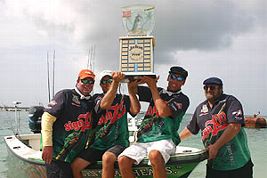 The remaining four teams were unable to pick through the clouds of 80- to 110-pound fish holding in the myriad deep holes and ledges in Boca Grande Pass.
Several big fish hooked by teams were harassed by a frenzied pack of bull sharks and escaped capture, but the cruelest cut of all happened to Derrick Jacobsen's Team Famous Craft.
They lost an estimated 160-pound fish — more than enough to overtake the leader — with 55 minutes remaining to the most benign of escape tactics.
"We had fought it for a little while and he came up for a gulp of air and just a little head shake. The hook just fell out. It was really uneventful," Jacobsen said. "That's something that never, ever happens.
"We usually have to dig deep to get our hooks out. That circle hook just dug as much as it could right on the top part of the mouth."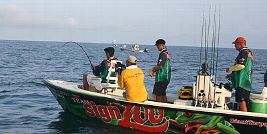 Team T.A. Mahoney, captained by Dave Markett, made things interesting with a late hookup that wasn't secured until 15 minutes after the 10 a.m. deadline, but the 111-pound fish was far short of the mark needed to overtake McCue and co.
Markett was nonetheless pleased with his team's effort throughout the weekend.
"I'm not sure if an old man like me can stand any more drama," he said. "I couldn't be happier with my team. Everybody hooked a fish and everybody landed a fish."
Markett's team qualified for the 25th and last spot in the championship with a strong showing in Saturday's qualifier, then advanced to Monday's top five.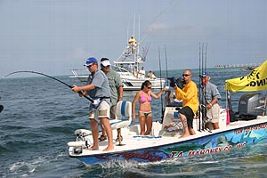 "To come as far as we did feels very, very good," Markett said.
The drama wasn't quite done yet for the elder Markett. With PTTS cameras rolling, his son Dalan produced an engagement ring from his pocket, got down on one knee and proposed to his girlfriend and teammate Jen Powell.
The visibly shaken Powell — known among tournament goers as one of the best fishermen in the pass — managed a yes, then there were long embraces all around and tear stains on the team's $10,000 check for second place.
"I won in many ways today," Powell said.  – John McQueen – ESPN